Learning Sounds of Asian Languages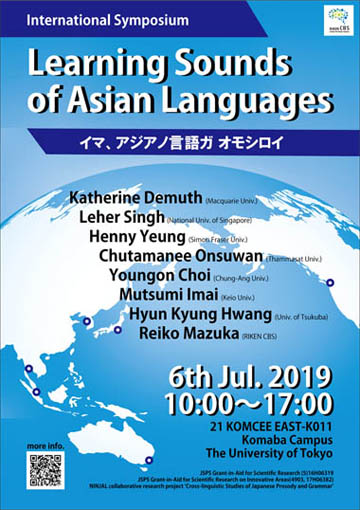 Admission

Free
Registration

If you would like to participate in this event, we recommend you to send an email, titled as "6th Jul. symposium participation", including your name, your affiliation ,If you are a student, please specify whether you are a PhD or Master student and to which university department you belong to. and contact information to "

Poster & Abstract (PDF:1.06MB)
International Symposium:
"Learning Sounds of Asian Languages"
Co-
sponsored

Grant-in-Aid for Scientific Research (S)16H06319
Grant-in-Aid for Scientific Research on Innovative Areas (#4903-17H06382)
NINJAL collaborative research project 'Cross-linguistic Studies of Japanese Prosody and Grammar'

Date

Admission

Free

Venue

21 KOMCEE EAST-K011,
Komaba Campus, The University of Tokyo
walk from the station Komaba-todaimae on the Inokashira Line
http://ds.adm.u-tokyo.ac.jp/material/image/20171017103702.pdf
(PDF:1.81MB)
https://www.u-tokyo.ac.jp/content/400020146.pdf
(PDF:1.34MB)


Language

English

Speakers

Youngon Choi

(Chung-Ang Univ.)

"Learning Unusual Sound Contrasts with Diachronic Changes: The case for Korean."

Leher Singh

(National Univ. of Singapore)

"The Acquisition of Lexical Tones in Infancy and Early Childhood."

Mutsumi Imai

(Keio Univ.)

"The sound symbolism bootstrapping hypothesis: How children bootstrap themselves from multi-sensory mapping to language-specific linguistic systems."

Henny Yeung

(Simon Fraser Univ.)

"Babytalk is not always WEIRD: Distinct acoustic characteristics of infant- versus adult-directed speech in Lenakel (Austronesian) and English (Indo-European)"

Hyun Kyung Hwang

(Univ. of Tsukuba)

"Acoustic characteristics of Motherese and early Perceptual development: A case STUDY of Japanese stops."

Chutamanee Onsuwan

(Thammasat Univ.)

"Phonetic modifications of Thai stops' Voice-Onset-Time, vowel duration, and lexical tones in Infant-Directed Speech"

Katherine Demuth

(Macquarie Univ.)

"Learning the Tones of Mandarin: Acoustic Evidence from Children with Cochlear Implants"

Host

Reiko Mazuka


(RIKEN CBS)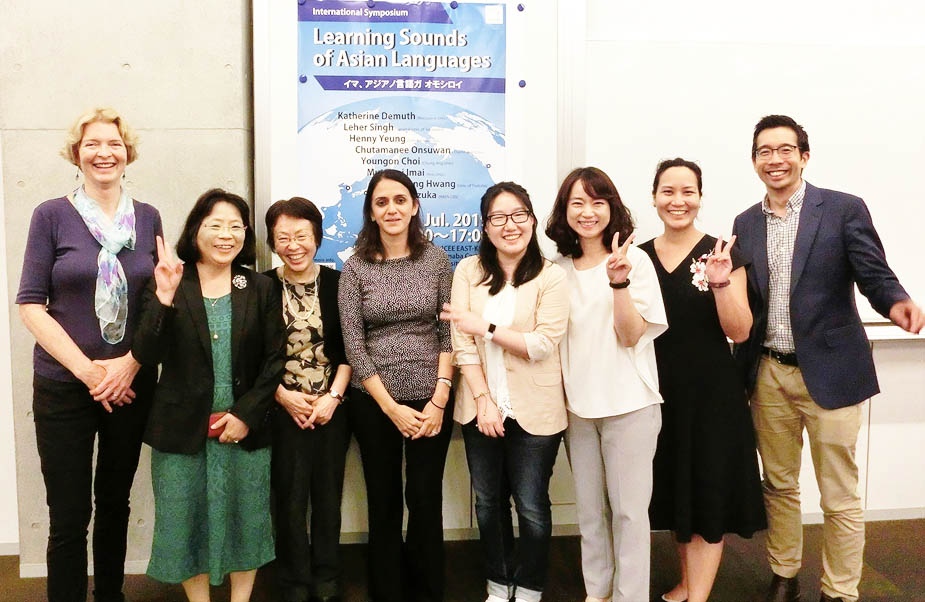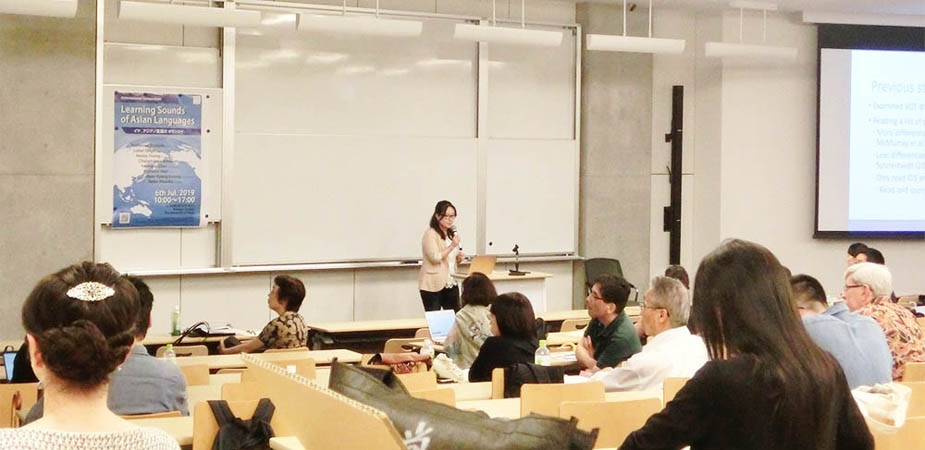 Back to Top