Baby - Behavior observation


At the Laboratory for Language Development, we study how and when infants begin to understand the language around them as meaningful.
※ This procedure is not a test of individual ability.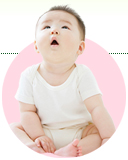 We have babies listen to sounds or look at pictures, and observe how the babies respond. Babies are never asked to listen to or look at anything unpleasant or unsafe.
In one type of experiment, babies watch a computer screen while listening to sounds, while we observe which sound they are able to discriminate. In another, the babies' attention is drawn by a flashing light while sounds play from one of two speakers. By measuring the time they pay attention to each sound, we can investigate what kinds of sounds the babies prefer to listen to.